Did you know that you can compromise your OnlyFans account by mentioning certain restricted words? If you're lucky, you may be let off with a warning, but the vast majority of accounts are immediately banned by OnlyFans if you violate their Terms of Service.
In this article, we'll list some of the restricted OnlyFans words that you should never mention under any circumstances. This includes all of the messages, wall posts, and stories you send out.
OnlyFans does update this list on a continuous basis but does not mention this anywhere else on their site unless you specifically ask support for this list.
Even misspelling certain words can lead to a complete ban! Follow guidelines carefully and make sure to report these restricted words yourself if a fan is mentioning these in chat. Make OnlyFans safer for everyone by knowing what you can or can't mention on the platform.
Scroll down to see all of the restricted words for OnlyFans.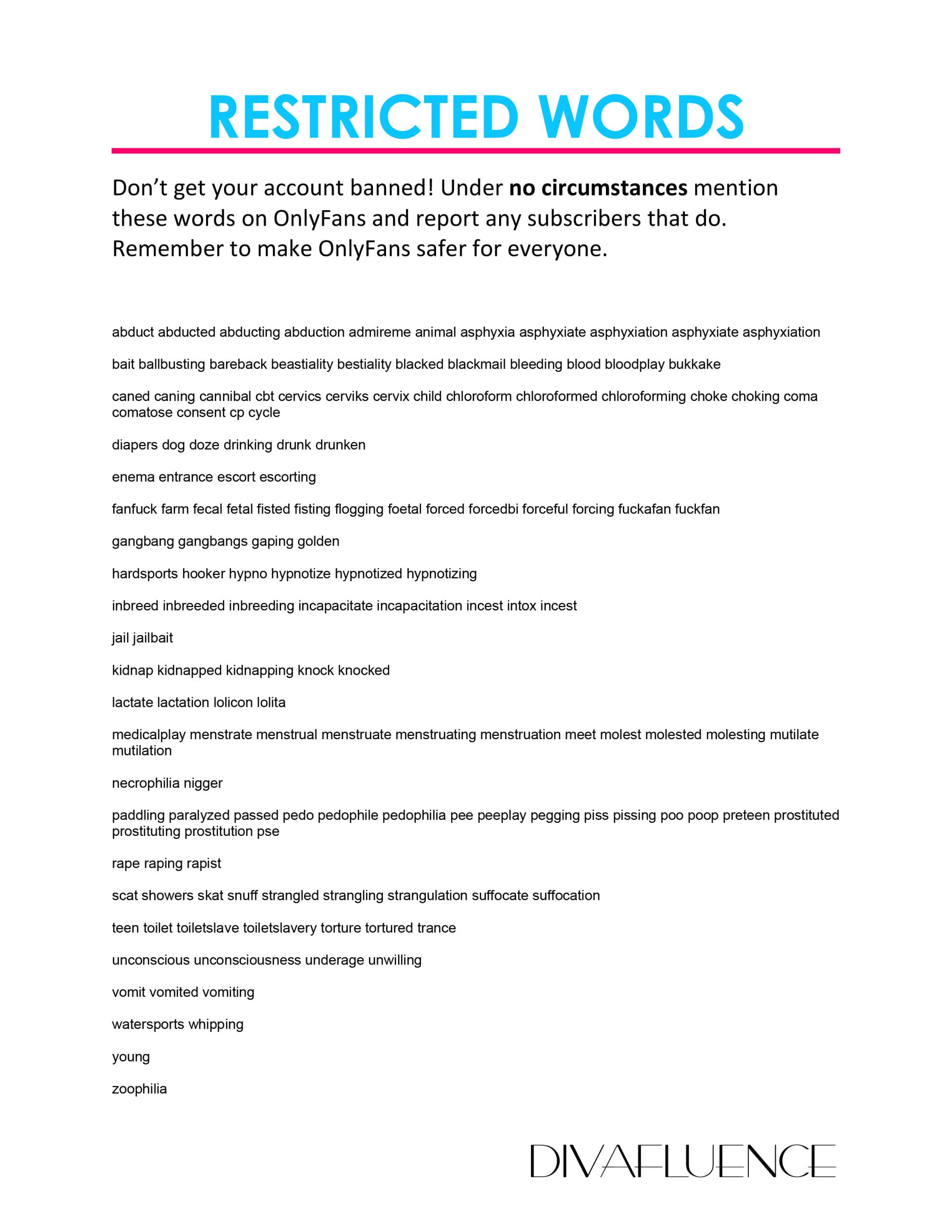 Do You Know the Secret Behind Making $10k+ a Month on OnlyFans?
Not getting results with OnlyFans? Save time and promote your channel to millions of fans.
Industry Basics
March 5, 2023
How to Sell Feet Pics on OnlyFans
How to sell feet pics on OnlyFans? The internet is home to a variety of ways for individuals to generate income and selling feet pictures online can result in a…
Platform Tips
January 11, 2023
OnlyFans Welcome Message
Trying to come up with the perfect welcome message for OnlyFans? Look no more! In this Divafluence guide we'll go over how to write the perfect welcome message for OnlyFans…
Content Guides
January 4, 2023
OnlyFans Content Ideas
Stuck trying to figure out content ideas for OnlyFans? Here's a couple of content ideas for OnlyFans as well as practical examples. Top OnlyFans Content Ideas If you're starting out…