Trying to come up with the perfect welcome message for OnlyFans? Look no more! In this Divafluence guide we'll go over how to write the perfect welcome message for OnlyFans as well as some examples and ideas you can copy and paste straight into your profile.
Welcome messages are a great idea to engage with your audience the very first moment they subscribe to your channel. Whether you have a free or paid profile, make sure to optimize your welcome message on OnlyFans.
To set up welcome messages:
Go to your OnlyFans Profile.
Select Settings.
Select Chats.
Enable "Send a welcome message to new fans" under "Welcome messages"
That's it, you're done!
There's a couple of things to keep in mind when actually setting up your OnlyFans welcome message. Give your fans the best welcome! Here's some points to think about:
Decide on format: Welcome messages could be versatile in the sense that they can be text, video, or audio. Think about how much effort you want to put into the welcome message and what you want to convey. In general, introductory video messages are a good way to get your fans acquainted with your channel and you. If decide to do a video, keep it short and sweet. Talk about your OnlyFans bio and what your niche is on the platform.
Pricing structure: If you do decide to do a PPV message for the welcome message, make sure it's priced accordingly. A good price to set is $3-5 dollars for quality content. Don't go overboard as some subscribers could be put off by pricing. Remember that pricing your welcome message will also allow you to segment and prioritize your most interested fans.
Include a call-to-action: Welcome messages are also a great way to incentivize or get fans to interact with you. Make it all about them and ask what their interests or name is. Remember that conveying the girlfriend experience is what sets apart top creators from the rest and will help you succeed on OnlyFans! A good interaction can help you transition into sexting quickly in chat so that you quickly start making money.
Include your niche and branding: Welcome messages are usually niche-specific. Remember your target audience and why they first subscribed to your channel! Make sure to include what you believe they would like to hear from you.
Offer discounts and deals: If you're a bit experienced and have lots of content in your OnlyFans vault, think about including a bundle in the welcome message that a fan might buy immediately.
Expand your audience: If you know multiple languages or want to target a specific segment, add a translation to your welcome message. When fans respond, you'll get an idea of which language is best to communicate with them. Otherwise, some may be hesitant to reach out altogether.
Hopefully you now have some ideas to think about for your welcome message. Check out the examples below to get a sense of how to effectively structure your welcome message. Remember, these scripts can be utilized in any format you want, including text, video, or audio.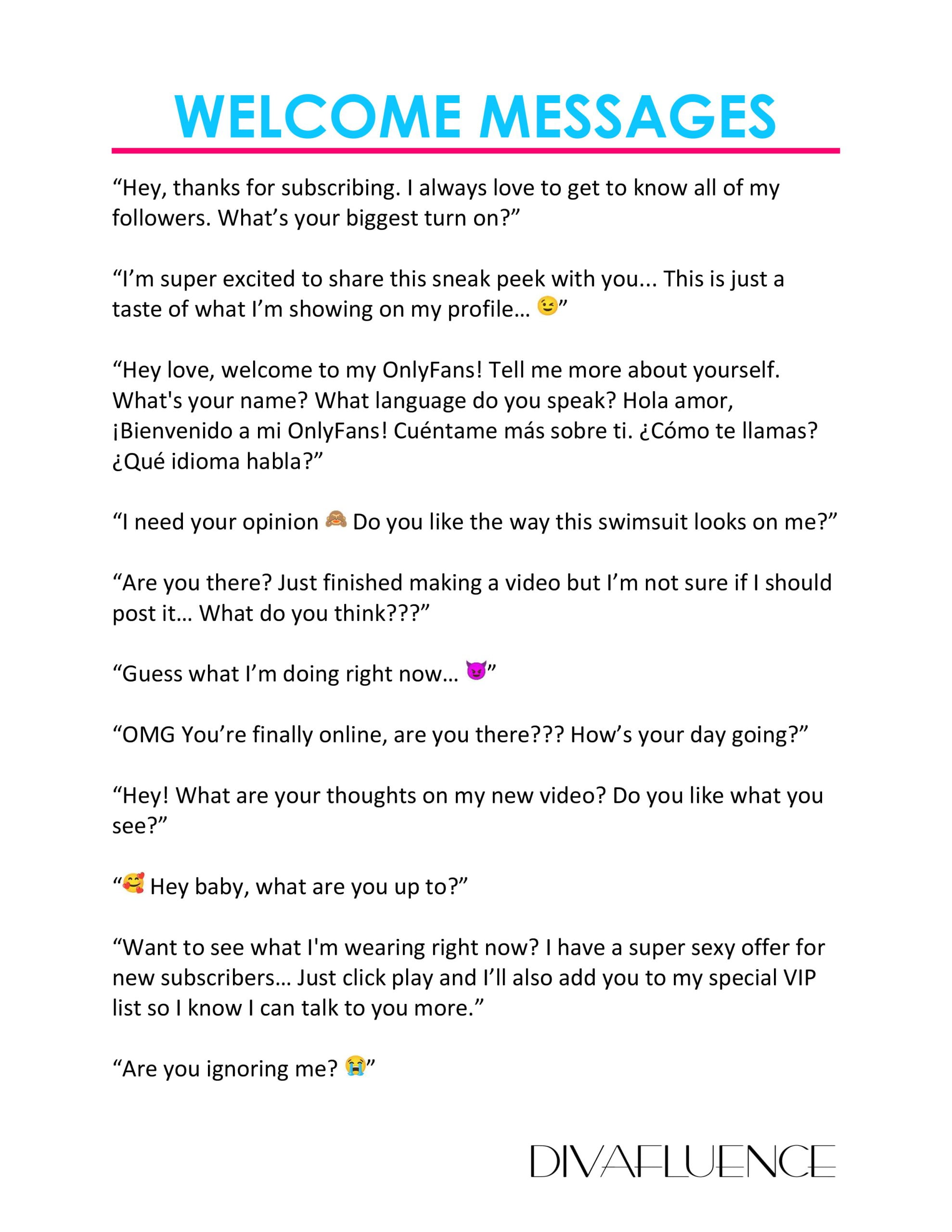 Do You Know the Secret Behind Making $10k+ a Month on OnlyFans?
Not getting results with OnlyFans? Save time and promote your channel to millions of fans.
Content Guides
August 4, 2023
OnlyFans Name Generator
Are you starting out OnlyFans but having difficulty coming up with a name? Read this article to get OnlyFans name ideas for your profile. Scroll down to make an example…
Industry Basics
December 30, 2022
Starting OnlyFans Tips
Starting an OnlyFans account for beginners can be a good way to monetize your content and connect with an audience, but it is important to carefully consider the implications and…
Industry Basics
July 30, 2023
How to Do OnlyFans
How to do OnlyFans? OnlyFans is a social platform where you can make money but it's intimidating to get started as a beginner. If you're not sure how to do…